>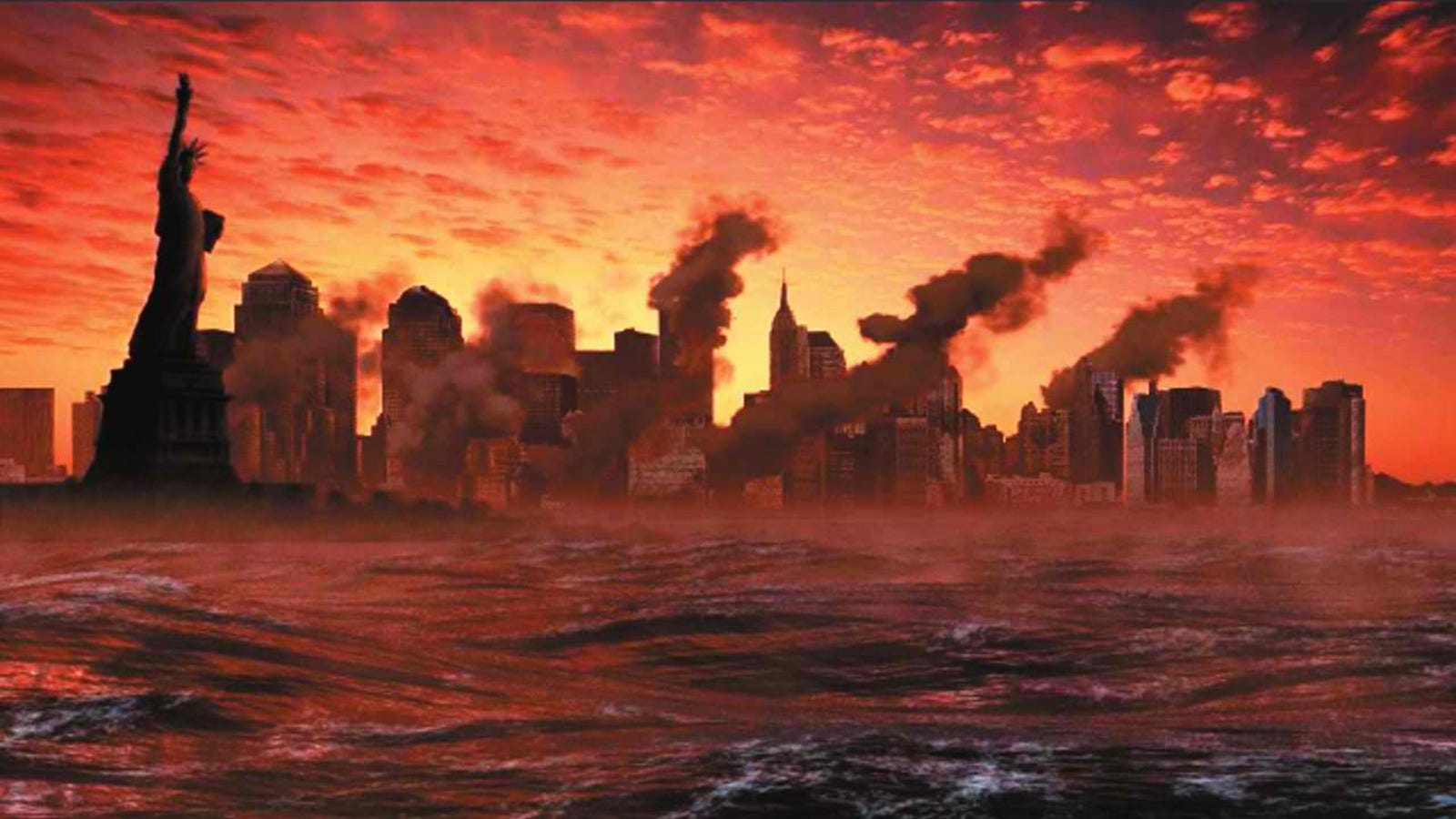 Like Hitler this civilization is going to hunker in the bunker unto its own bitter, maximally destructive end. Meanwhile we have those who call for WWII-level mobilization, ostensibly to do something about the climate crisis. Many of them regurgitate the long lie that nature is waging war against civilization and that civilization needs to muster for total war in return. Thus we have the rhetoric of World War II mobilizations, the Manhattan Project, the Apollo space program. But I automatically distrust anyone who uses militaristic metaphors in environmental contexts unless the militarism is directed against the destroyers of the Earth. It reeks of Dominion theology, which remains rife throughout the mainstream environmental movement. Like the more conventional right-wing end-times frothing, this rhetoric among the mainstream environmentalists and "eco-modernists" is propaganda toward the corporate-theological agenda.
In reality it's civilization itself, and especially the modern economic civilization, which is inherently ecocidal-genocidal and wages total aggressive war dedicated to exterminating all life on Earth including humanity. Gaia is indeed ramping up her ecological correction mechanism, but this is purely defensive. Much like how around the world there are many defensive political and military actions against US imperial aggression (which aggression many of the mainstream environmentalists also support).
How is it possible to look at an old-growth redwood or boreal or tropical rain forest and think a god who created such an ongoing miracle wants for hominids to destroy it? They think a god put it there merely for humans to use it as a "resource"? That's not possible. If so this god wouldn't have filled it with such innumerable life and made it so beautiful.
To say God gave you a resource in a forest or wetland or river is identical to saying this about other people as you enslave them. It's evil. To put it in Christian terms, these are agents of Satan doing Satan's bidding. Only Satan could look at a tree and
want to cut it down.
Dominion theology is refuted by three simple facts:
1. If God wanted man to dominate nature, the result truly would be "reclamation" and the recovery of the orderly Garden of Eden. Instead the result invariably is chaos, disorder, destruction. From the point of view of Christian theology, an honest person would have to admit that extractive actions boost Satan's dominion, not that of God.
2. If God created nature in order for it to be dominated and destroyed by man, this god never would have created such unfathomable biodiversity, such an infinite expanse of detail. On the contrary, the miraculous infinity of earthly life would prove to any truly religious person (except a Satanist) that God wanted humans to integrate harmoniously with nature, or at most to be a good and benevolent steward. ("Steward" is a
more accurate translation of Genesis than "dominion".
)
3. Anyone who really thought the Rapture was imminent wouldn't be concerned with material "resources" anyway. Those who truly believed the Rapture and/or the Second Coming was imminent would devote all their energies to preparing their souls. They'd have zero time or interest for temporal things like making money. Indeed, they'd consider it to be a bad time to indulge greed, violence, and all the other sins inherent in capitalism.
This proves that those who assert the end times are imminent, and that therefore there's no reason not to destroy the Earth, are frauds and liars. They're really either closet atheists or closet Satanists. When they invoke the Rapture what they really mean is, "Once we have enough money and guns and techno-gadgets we'll be free of all social, political, economic, even physical restraints. It'll be as if we were lifted bodily to heaven."
This sums up the theology of capitalism, scientism, technocracy, Mammon, all coated with a fake neo-Christian veneer. They've long since been unable to sustain faith in de jure Christianity, but the temporal matrix of money, technology, power, violence, and ecological destruction seems to offer a synthetic substitute. They no longer believe in a God "up there", but they still believe in the up-there itself and that they can take the place of this god.
Any true Christian, or any other sincerely religious person, would reject technocracy's campaign to eradicate the original Creation and replace it with a purely artificial anti-ecological machine. It's the Tower of Babel to a much greater extreme. This includes the summoning and worship of demons called "corporate persons", and Mammon's religious belief in the reality and sanctity of money.
Most of all it applies to the core mindset of the civilized: Biophobia, hatred of life. And it applies most of all to the core activity of civilization: Ecological destruction for the sake of destruction. Do we need the products of the destruction? No. An entire marketing industry and propaganda ministry have to work day and night to brainwash people into thinking they need these products. Do these products or their profits satisfy anyone or make anyone happy? No. The rich only obsess on how to become more rich, while everyone else, where not yet completely immiserated, becomes ever more anxious, diseased, angry.
There's your proof: The destruction is for no rationally explicable purpose. The destruction is done purely for its own sake. That's the religion of modern civilization. That's the essence of Dominion.