>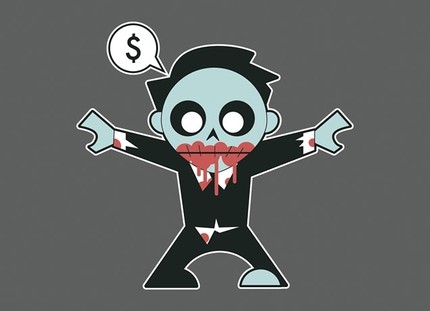 There's two kinds of fake people: The corporate persons, which are a kind of demon which has been summoned for worship and for attempts at control; and those flesh-and-blood people who nevetheless have renounced all human responsibility in order to worship these demons.
Corporations are fictions rendered real only by the lies and violence of the state and the inertia of the people. They are created by government and are extensions of government, an extra-constitutional fourth branch of government. The proximate purpose of corporations is to shield criminals from the legal and political consequences of their crimes, and to shield gamblers from financial risk. More broadly, neoliberalism is based on transferring all real power from the nominal "public" government (the three constitutional branches) to the "private" corporate branch of government. The public government is maintained only as thug, tax collector, subsidy-conveyor, and the sham facade of fake democracy, including running sham elections.
Economically, politically, ecologically, the corporate-technocratic state works to impose maximum monopoly monoculture control with minimum real-world apparatus or indeed contact with physical reality at all.
For example, the sector comprising corporate agriculture and food, along with its lead enablers from the state like USAID and the USDA, all coordinated by the quasi-governmental Gates and Rockefeller Foundations, thinks exclusively in terms of Mammon's fictive numbers. The measure of agriculture is never food for human beings but sanctified fake numbers like GDP, trade balances, sovereign debt, commodity and stock prices, corporate profits, money as such. These pure fictions are rendered real only by the corporate state's violence and the tolerance of the people. Thus the corporate/government/NGO structure is able globally to impose and enforce the agricultural model which conforms to these measures and eradicates, as much as possible, all actual food production for human beings. This physical control and destruction without responsibility is the grail of all corporations.
In these ways the goal is to render it as literally true as possible that food is produced by money, that food comes from the supermarket.
The entire corporate system is dedicated to enforcing the religion of Mammon to its ultimate extreme, where the only relationships which shall exist shall be between sterile objects, preferably legal fictions like corporations, patents, titles and money, while all ecological relationships, all relationships between human and human, human and Earth, shall be eradicated. These relationships are to cease to have any right to exist, and then cease to exist in the most literal sense. This is the logical end of all theory and practice of the profit-seeking corporation. As we see every day, the corporations at all times are working aggressively toward this end.
Forget "fake news". Our main problem is fake people.